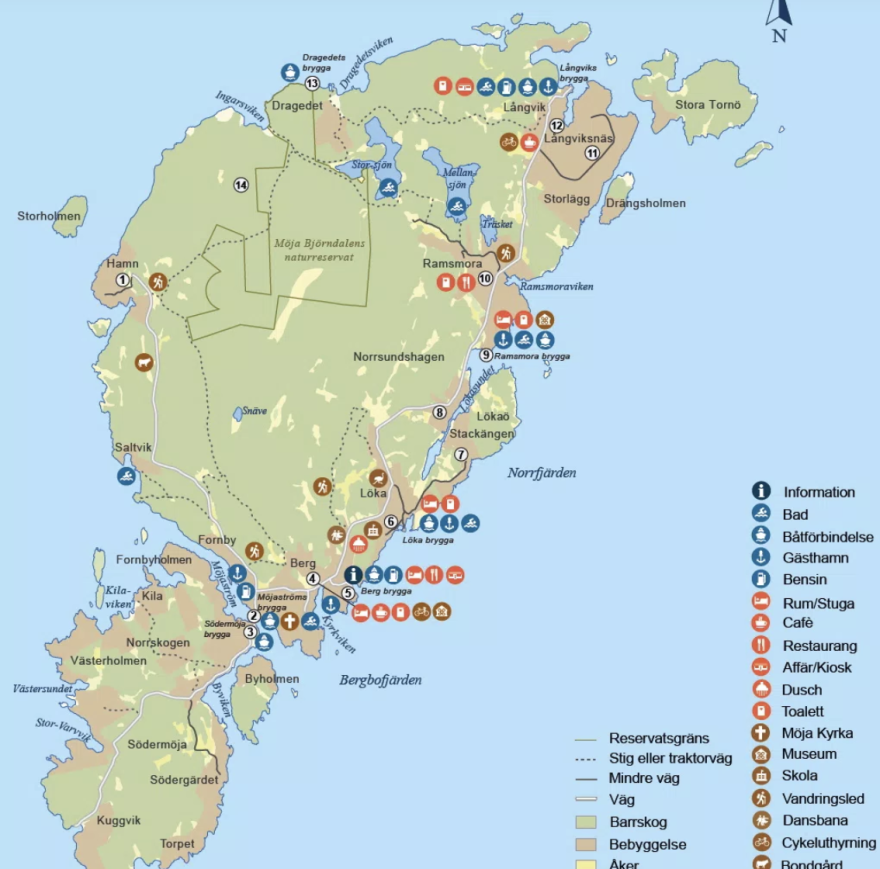 OUR FAVOURITE PLACES ON OUR FAVOURITE ISLAND!
WHERE TO EAT OR TAKE A SNACK
Almost every place is run by a family.

BERG
MÖJA VÄRDSHUS AND BAKERY
Cozy place with good food
and nice drinks
Serves lunch, and dinner.
They also have a small bakery.
Here you can take a coffee
and something from the bakery
in the garden.
LES POISSIONNIERS DE MÖJA (MÖJA FISK)
Seafood Deli, Bistro, Bar
and outdoor Lounge
Serves food and drinks all day
MÖJA HAMNBAR & MÖJA HAMNCAFÈ
(Hamnbar)Nice little pizza and icecream place
In an old boat house in the harbour
(Hamncafé) Here you can find coffee, icecream
and sweets. Also serves as harbour office.

RAMSMORA
ROLAND SVENSSON MUSEUM
Famous artist and author who was based on Möja.
WIKSTRÖMS FISK
Fish restaurant for lunch and dinner
Nice little restaurant with home feeling
Dont miss a visit to SOLHANTVERK Handmade jewelry in silver and glass!

LÅNGVIK
SKÄRGÅRDSGALLERIET
Paintings and art with an archipelago theme. Marine crafts and books about the Stockholm archipelago.
JEPPES GÄSTGIVERI
Cafe, restaurant and MÖJA SLÖJD - Local handcrafted products!
TOURIST INFORMATION HOUSE
Visit the tourist information house in Berg just opposite thegrocery store
MÖJA DANSBANA (DANCE PALACE) AND MOVIE THEATHER
MÖJA DANSBANA (located in Berg) Is a classic archipelago dance palace. This is the place for all big events on Möja, such as Live Music, Markets and movies. BOULE FACILITY It is free to use, bring your own boules. Lots of fun!
MÖJA HEMBYGDSMUSEUM (located in Berg) Möja Homeland Museum is a small museum dating from the 19th century that shows how the archipelago population lived and worked in the past. The museum also arranges interesting historical walks.
EXPLORE MÖJA BY FOOT OR BIKE
The road on Möja is ca 10 km long.
From Långvik to Berg ca 5 km
and from Berg to Hamn 5 km.
There are several nature trails on the island. Explore the small villages of Möja and see the houses and gardens. Visit the villages
harbours, all with different stunning views of the archipelago. Walk the strails in the woods and discover the beauty of the silence woods and inland lakes.

OSTRICH
in the village of Löka you will find an ostrich farm just by the road.
BEACHES AND BATHING SPOTS
Möja has no public beach but several unofficial bathing spots. Follow the local signs, respect the property boundaries and
houses!
SALTVIK
Natural beach and hot rocks.
SANDKLEV
Passing Löka is a small beach
in the forest.
STORSVED
Lovely cliffs.
LÅNGVIK
One of the greater views omn the island! Nice cliffs and a small sand beach
MELLANSJÖN
You can also find nice cliffs at the small lakes to bath from.